10 years of CityFood: Making urban food systems deliver for people, landscapes and climate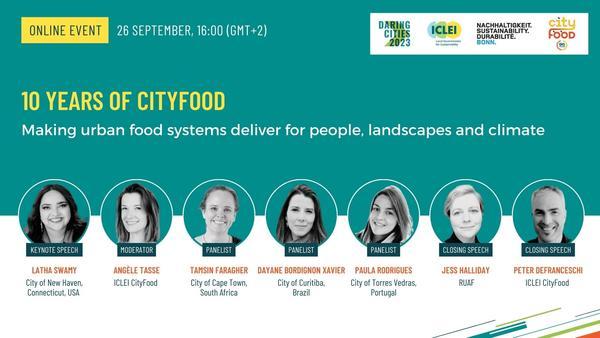 How can cities foster a just and equitable transition towards sustainable and resilient food systems?
Celebrating the 10-year anniversary of ICLEI's CityFood Program, this event will welcome city representatives from Europe, Africa and Latin America to discuss the various levers cities can pull to transform their food system and drive climate action from the bottom up.
It will take stock of progress made in the past 10 years and discuss priorities for Healthy People, Healthy Landscapes and a Healthy Climate (CityFood's triple H approach) by 2030.
Speakers include:
Latha Swamy, Director of Food System Policy, City of New Haven, USA
Paula Rodrigues, Technical Advisor, Area of ​​Food and School Health, Department of Education and Physical Activity, City of Torres Vedras, Portugal
Tamsin Faragher, Principal Resilience Officer, City of Cape Town, South Africa
Dayane Bordignon Xavier, Nutritionist and Focal Point for the LUPPA project, City of Curitiba, Brasil
Angele Tasse, Expert, Sustainable Food Systems, ICLEI
Jess Halliday, Chief Executive, RUAF
Peter Defranceschi, Global CityFood Program Coordinator, ICLEI
To watch the recording of the event, please click here.