Ensuring Healthy Diets for All in face of a Warming Planet: Challenges, Opportunities, And Solutions
Sharm el-Sheikh, Egypt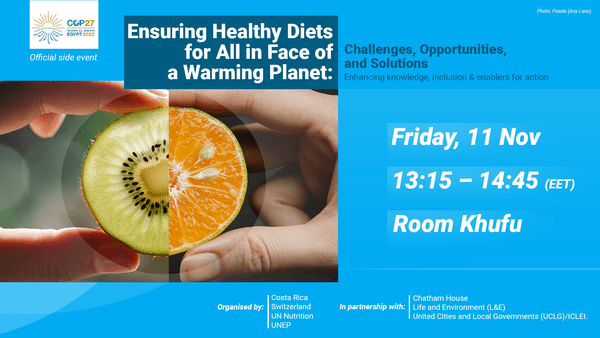 Current diets are unsustainable and exacerbate global warming, while climate change threatens the equitable achievement of good nutrition. This event will examine food, nutrition and climate change interlinked challenges and recommend key multi-stakeholder policy actions to reduce GHG emissions through healthy and sustainable diets.
Speakers include: 
Martina Otto, Head of Secretariat, Climate and Clean Air Coalition, United Nations Environment Programme

Karla Mena Soto, Agriculture Negotiator for Climate Change, Ministry of Agriculture and Livestock, Costa Rica

Christine Zundel, Senior Policy Advisor, Federal Office for Agriculture, Switzerland

Sisay Sinamo, Senior Program Manager, Seqota Declaration, Federal Program Delivery Unit, Ministry of Health, Addis Ababa, Ethiopia
Hugo Salomão França, Multilateral Affairs and City Networks Coordinator, São Paulo, Brazil

Tim Benton, Research Director, Emerging Risks; Director, Environment and Society Program, Chatham House
Peter Defranceschi, 

Head of Brussels Office and Global CityFood Program Coordinator, ICLEI

Jean-Baptiste Buffet, Head of Policy and Advocacy, UCLG

Dorit Adler, President of the Israeli Forum for Sustainable Nutrition, L&E

Dr. Michal Bitterman, CEO and Co-Founder, The Natural Step Israel, L&E
The event will be moderated by Stineke Oenema, Executive Secretary, UN Nutrition.
Event hosts: Costa Rica, Switzerland, UN Nutrition and UNEP in partnership with Chatham House, ICLEI, UCLG, the Natural Step Israel, Life and Environment (L&E)
Time: 11 November 2022, 13:15-14:45 EET (12:15-13:45 CET)
Location:
For those joining in person:  

Khufu Room, COP27 Blue Zone,

 Sharm el-Sheikh International Convention Centre.
For those joining online: please register on the COP27 virtual platform.
For more information on the event program, please click here.