Food Systems in Mediterranean Cities: Opportunities for collaboration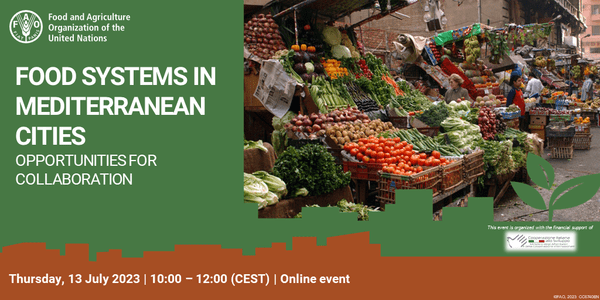 Under the framework of the Urban Food Agenda and the SFS-MED Platform, FAO is organizing this webinar to present the outcomes of the study and hold a roundtable discussion bringing together municipalities, food systems stakeholders from across the Mediterranean, and international city networks. The webinar will aim to address a key question: how to foster collaboration and knowledge exchange among Mediterranean cities to advance sustainable food systems in the region? Participants will have the opportunity to:
i) share their experiences in promoting sustainable food systems in Mediterranean cities;
ii)  identify the added value of facilitating and/or participating in city-to-city cooperation initiatives, as well as needs and expectations for successful peer-to-peer learning;
iii) discuss ways forward to strengthen the collaboration among Mediterranean cities and key partners.
Speakers included:
Genci Kojdheli, General Director of Integration, Strategic Projects and Economic Development, Municipality of Tirana (Albania),
Adel Bettaieb, Director of Roads, Parks, and Green Spaces, Municipality of Tunis (Tunisia),
Luc Lignon, Director of the Food Policy, Municipality of Montpellier (France)
Luigi Ranieri, Director of Programme Implementation, Municipality of Bari (Italy)
Damiano Petruzzella, Scientific Administrator, CIHEAM Bari
Balance Phala, Food Systems Officer, ICLEI
Jalila El Ati, Head of Research and Planning Department, National Institute of Nutrition and Food Technology of Tunisia (INNTA)
Filippo Gavazzeni, Head of Secretariat, Milan Urban Food Policy Pact
To register for this event, please click here