Improving Food Systems and Value Chains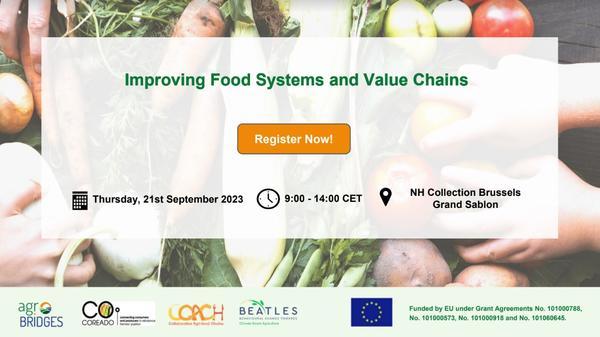 Organised by Q-PLAN INTERNATIONAL ADVISORS (coordinator of the agroBRIDGES project) in collaboration with the COCOREADO, COACH and BEATLES projects, this event will seek to discuss concepts, developments and recommendations for improving food systems and value chains in Europe. 
During the event, ICLEI's Peter Defranceschi and Francesca D'Addario will share insights on transformative policy measures - including sustainable public food procurement - that can transform the EU's food value chains for the better.
For more details on the event programme, please click here. To register, please click here.
Event Date: Thursday, 21st September 2023
Event Time: 9:00 - 14:00 CET
Event Address: NH Collection Brussels Grand Sablon (Rue Bodenbroek – Bodenbroekstraat 2, 1000 Brussels)