From Local to Global Governance: Aligning Action for Sustainable Food System Transformation
Sharm el-Sheikh, Egypt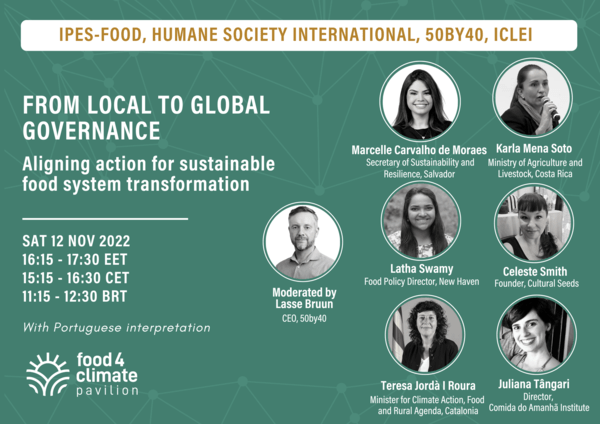 ​​How can towns, cities, regions, states, national, and supranational governments align food system policies to deliver for people and the planet?
There is broad consensus that without a rapid transformation toward sustainable and resilient food systems, it will be impossible to achieve the objectives of the Paris Climate Agreement. Achieving a just transition to sustainable food systems requires collaboration across all levels of government. This event will explore issues of multi-level governance of food systems, illustrating the powers and mechanisms available at different levels of government, examples of effective actions, and the challenges of policy integration.
Speakers include:
Latha Swamy, Food Policy Director, City of 

New Haven

Ana Paula Matos, Vice Mayor, Salvador, Brazil

Karla Mena Soto, Agriculture Negotiator for Climate Change, Ministry of Agriculture and Livestock, Costa Rica

Teresa Jordà I Roura, Minister for Climate Action, Food and Rural Agenda, Catalonia

Juliana Tângari, co-founder, Comida do Amanhã and Lab on Urban Food Policies

Celeste Smith, National Farmers' Union, Canada

Peter Defranceschi, Head of Brussels Office and Global CityFood Program Coordinator, ICLEI
The event will be moderated by Lasse Bruun, CEO, 50by40.
Event hosts: IPES-Food, ICLEI, Humane Society International, 50by40
Time: 12 November 2022, 16:15-17:30 EET (15:15-16:30 CET)
Location:
For those joining in person: Food4Climate Pavilion, COP27 Blue Zone, Sharm el-Sheikh International Convention Centre.
For those joining online: to register for the virtual event, please click here.
For more information on the Food4Climate Pavilion, please click here.