Mainstreaming Urban Food Systems Transformation: Insights from the AfriFOODlinks Project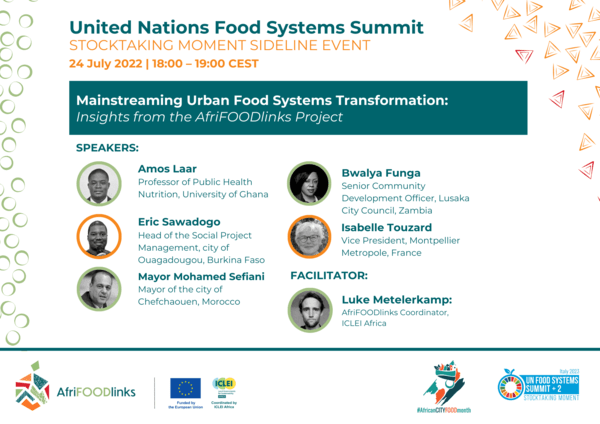 The United Nations Food Systems Stocktaking Moment aims to track progress on food systems commitments. ICLEI Africa and partners again join the UNFSS process to shine a spotlight on the critical role of urban food systems in achieving the SDGs.
As food systems worldwide grapple with mounting challenges to ensure food and nutrition security for all, it has become increasingly crucial to address the unique pressures faced by urban areas. With over 55% of the global population currently residing in cities, the need to prioritise the urban food agenda has reached unprecedented importance. However, urban food system commitments and action are still under-represented in the UNFSS process.
This side event will draw on the ideas and worldviews of the AfriFOODlinks project to emphasise the need and value of investing in urban food systems. It is an ambitious African-led initiative that fosters collaboration among key stakeholders from Africa and Europe to tackle the systemic causes of food insecurity and environmental impact within urban contexts. This project spearheads a transformative approach by forging connections between local government actors, researchers, civil society organisations, youth, and activists from both continents.
During this UNFSS sideline event, participants will have the opportunity to delve into the aspirations and perspectives of the AfriFOODlinks cities and partners, hearing how urban food systems challenges manifest in their cities, and what they are currently doing to address them. Join us to unlock the potential of urban food systems and hear how different cities are already driving meaningful progress toward a future in which food security and environmental sustainability are mutually reinforcing.
To register for this event, please click here.