EU-wide petition asking for a healthy school meal for every child in every EU school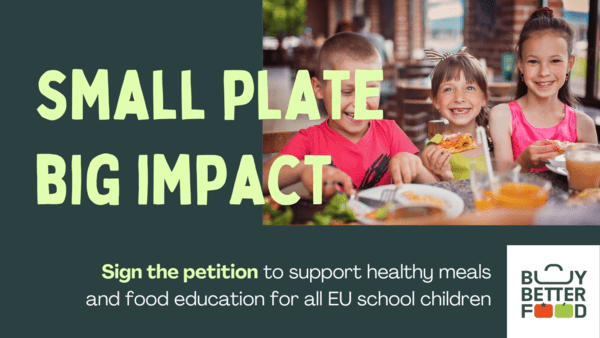 In the framework of the Buy Better Food campaign, ICLEI Europe has launched an EU-wide petition asking for "A healthy school meal for every child in every EU school" to boot healthier and more sustainable meals in schools, and with the intention to make clear that sustainable and healthy food in schools is a priority for Europeans. The petition is accessible under https://bit.ly/FoodPetition
The petition, that has already more than 6,000 signatories, addresses the EU Commissioner for Health and Food Safety, Stella Kyriakides, and the EU Member States responsible for the implementation of the EU Farm to Fork strategy and urges them to "enforce healthy school meals and food education for every child in every EU school, as the minimum standard for the EU Farm to Fork strategy and for the enforcement of the European Child Guarantee." The petition stresses that "healthy school meals are beneficial for both people and planet. Paired with food education, school children can learn to eat and cook healthily - while using food responsibly."
On 11th of October 2022, Peter Defrancesci, Head of ICLEI's Global Food Program, will host a high-level workshop on farm to form procurement in the framework of the European Week of Regions and Cities (#EURegionsWeek), the biggest annual Brussels-based event dedicated to cohesion policy. On occasion of the event, ICLEI will hand in the petition endorsed by the signatories up to that date, together with a "Manifesto for establishing Minimum Standards for Public Canteens across the EU", which was prepared by members of the EU Food Policy Coalition to Alexandra Nikolakopoulou, Head of Farm to fork strategy Unit at the European Commission's directorate general for health and food safety (DG SANTE).
This is the first time ICLEI invites the general public and the civil society to participate and become active in a petition by supporting and signing the petition. And ICLEI does so as a core member of the Buy Better Food campaign.
To reach different audiences (politicians, public authorities, parents, young adults, civil society organisations and individuals or institutions) interested in the field of #schoolmeals throughout Europe, the petition is available in seven languages: German, Spanish, French, Polish, Italian, Greek and English.