CityFood at COP27: at last, COP27 spotlights food systems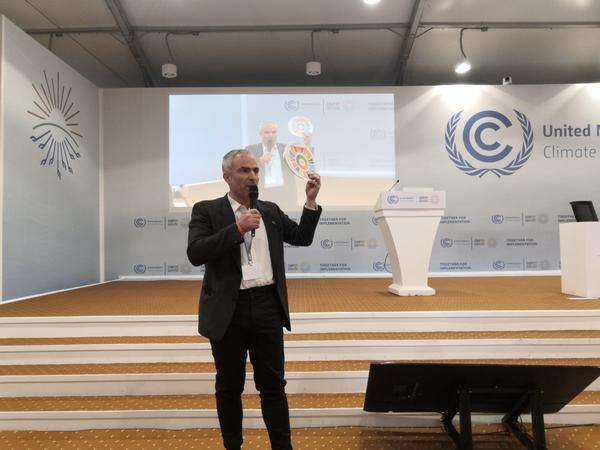 COP27 has made it clear: this year, countries should be standing "Together For Implementation". To this end, global leaders have come together in Sharm El Sheikh (Egypt) over the past two weeks to discuss the climate actions necessary to collectively meet Paris Agreement targets. And, for the first time at a UN Climate Change Conference, food systems and their linkages to climate change have taken center stage. This builds on the growing recognition – fueled by the COVID-19 pandemic, Russia's war in Ukraine, and the climate crisis – that food system transformation is crucial.
Leveraging food for climate action
Evidence clearly shows that the current food systems are unsustainable. They contribute one-third to all greenhouse gas emissions, worsen biodiversity loss, and are among the largest consumers of freshwater. Furthermore, about one-third of the food produced goes wasted. While there has been increasing recognition that a food systems change constitutes a cornerstone of building sustainable and resilient societies, there is still a long way to go. UN Climate Change Conferences took a long time to recognize that transforming food systems is essential to achieving climate, nature, and development goals. At this year's COP27, however, things turned: Unprecedented attention was given to food systems, with an official Thematic Day dedicated to Adaptation & Agriculture and two COP27 Presidency initiatives dedicated to food and nutrition.
COP27 marked the first time that several pavilions were dedicated to food. Four food pavilions – Food Systems Pavilion, Food4Climate Pavilion, Food and Agriculture Pavilion, and Sustainable Agriculture of the Americas Pavilion – organized a full program of events over two weeks. They provided a space for discussion among a wide range of actors from the public and private sectors, to farmers, youth representatives, and Indigenous people.
ICLEI was among 80 diverse organizations who signed a joint call to negotiators and ministers at COP27, calling the new mandate for the Koronivia Joint Work on Agriculture (2017) to go beyond food production and to address food consumption, loss, and waste. Unfortunately, the final text does not include any paragraph on widening to a food systems approach.
Cities at the forefront of food and climate challenges
More than 70% of the world's food is consumed in cities, and this share will only increase as urban populations continue to grow. Although local and regional governments have considerable power over many aspects of their food system, the role of cities has often been overlooked. Cities have the potential to be, and a track record of being, catalytic actors in transforming food systems for people, nature, and climate. They can take action on multiple fronts – from food procurement, to food waste and food markets. As highlighted by Karla Mena Soto, Costa Rica agriculture negotiator, "We know the solutions, but what we need is to unlock financial support to help local communities implement good practices on the ground".
ICLEI showcased cities' enormous potential in food systems change throughout a number of COP sessions. In the session "Feeding the city for healthy people, landscapes, and climate", which took place at the Multilevel Action Pavilion, ICLEI welcomed city representatives and expert speakers, inviting them to share their perspectives on the role of cities in driving food system transformation. The fruitful discussion was then brought forward at the Food4Climate Pavilion, where speakers exchanged on the need to align action across levels of government. As emphasized by Chantal Clement, Deputy Director at IPES-Food: "National governments have to step up their support to local initiatives and authorities. We need to link food and climate at all levels of governments."
This COP, ICLEI went beyond knowledge sharing on food, pairing informative sessions with two concrete urban food systems announcements. First, ICLEI launched its revamped Global CityFood Program, which provides hands-on food systems change guidance and support to local and regional governments. At COP27, Peter Defranceschi, Global CityFood Program Coordinator, made clear why this revamped program is so crucial, saying: "Climate action without food systems misses one third of GHG emissions. Cities are where most food is consumed and wasted. The road to sustainable food systems and climate action therefore runs through cities. ICLEI's Global CityFood Program builds on over 30 years of experience with over 2,500 local and regional governments to drive urban to national food governance via its triple healthy food, landscape and climate approach."
Second, Divine Njie, Deputy Director of FAO's Food Systems Division, presented the Urban Food Systems Coalition at COP27, which was launched at the 2021 UN Food Systems Summit. The coalition supports local and national governments in implementing sustainable and inclusive urban food policies. Now, FAO, GAIN, and ICLEI, who coordinate the Secretariat of the coalition, are calling on national governments to endorse the coalition and its principles through a declaration of engagement.
So, what are ICLEI's key takeaways on food at COP27?
The importance of food systems – notably including urban food systems – to climate action is being increasingly recognized at national and international levels. However, there is still progress needed on this front. Food has finally been given the attention it deserves at UN Climate Conferences; but, it has not yet made it to the negotiation table, and the role of cities in tackling food and climate challenges remains, to a large extent, overlooked.
Throughout COP27, ICLEI has demonstrated its commitment to continue advocating for cities, underlining their vast potential to transform food systems and drive climate action, all while demanding effective multi-level governance and support for enhanced international collaboration among cities to share capacities, expertise, and resources.